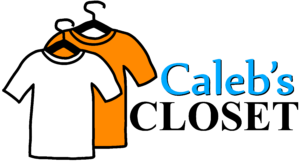 Tried Stone Christian Center opened a clothing bank, Caleb's Closet, in Blacksburg the Spring of 2015. Caleb's Closet has been incredibly successful in providing many of our local families with clothing. We are excited to see how the Lord is using this small ministry to impact so many lives in our community.
Caleb's Closet is open to the community the 1st Saturday of each month from 10am-Noon. We are located at Tried Stone Christian Center in Blacksburg at 2100 North Main Street. Gently used clothing is available for men, women and children at no cost (no vouchers needed). Photo ID is required and the limit is 10 items/person present.
Donations: We accept tax-deductible donations for men's, women's, and children's clothing (all sizes). You can drop off donations at Tried Stone Christian Center the 1st Saturday of each month between 10am-Noon, or by appointment (please email info@triedstone.cc to schedule an appointment).
We are only accepting spring/summer clothing for men, women, and children until the end of May.
Volunteers: If you are interested in volunteering on a monthly basis or for just one day, please contact Linda at blandls@vt.edu.
For more information concerning Caleb's Closet, please call the church office at 540-953-1522 or email info@triedstone.cc.